Auto & Marine Body Shop in Rio Medina, TX
Family-owned and established in 2010, Rio Medina Truck & Auto Repair and Marine has been providing superior automotive & marine services to the communities of Rio Medina, Medina County, Mico, Castroville, and Quihi, TX and the surrounding areas for years! We are a full-service auto tune-up specialist and auto body shop, as well as an automotive paint and body specialist with a marine division servicing motor boats, jet skis and more!
Quality Auto Repair, Paint and Bodywork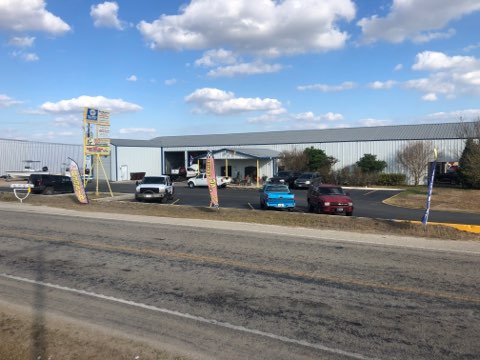 When it comes to your vehicle's maintenance and repair, it's important to trust an auto mechanic in Rio Medina, TX that's going to treat your vehicle as if it were their own. Delivering quality auto service starts with being invested in the customers and vehicles you're serving, which is why Rio Medina Truck & Auto Repair and Marine always puts the best, highest quality workmanship forward. We aim to earn the trust of our customers, so they never have to wonder if they're in good hands: they know they are each and every time they roll onto our lot. And, with more than 25 years in business, we've worked hard to earn the stellar reputation we're known for!
Our auto body shop is dedicated to providing you with virtually any automotive service you might need to get back on the road safely and stay there. From routine services like tires and brakes, to complex electrical or transmission repair in Rio Medina, TX, we do it all. We even have an entire division for marine repairs, to offer your boats and jet skis service! With a 12,000 square foot facility at our disposal, you're guaranteed comprehensive work, quick turnaround times and a job that's always done to the fullest. Take a look at just a few more reasons people keep on coming back to us for service:

Our auto mechanics are all ASE certified, highly skilled and have years of experience. Most of all: they love cars and care about yours!
We're committed to providing you with the highest level of service, no matter the work.
Our first-time customers continually become our long-term customers time and time again, choosing us for all their auto needs.
We have an A Rating with Better Business Bureau of Central, Coastal, Southwest Texas and the Permian Basin!
We're a member of the Castroville, TX Chamber of Commerce.
Need Auto Repairs?
If your vehicle is in need of service, we want to help! Contact our auto body shop today to schedule an appointment and we'll get your vehicle running like new again in no time at all.
Proudly serving as auto mechanics to the Rio Medina and Medina County, TX as well as the surrounding communities and counties:
Mico, TX
San Antonio, TX
Castroville, TX
Bexar County, TX
San Antonio, TX
La Coste, TX
Pipe Creek, TX
Bandera County, TX
Atascosa, TX
Hondo, TX
Lytle, TX
Devine, TX